arrangement

STRINGS IN PERFECTION
Working with an orchestra - be it a quartett or a big symphony orchestra - is a dream of many artists.
Nowadays it's quite easy to get a good orchestral sound from a laptop, but it's quite a task to transfer this into something that's playable and interesting for classical musicians.
Great arrangements will make your song shine in the studio or on the stage. Remember: A mix already starts with the arrangement. A clear and easy-to-read notation will also help to have a consistant sound should you have concerts with changing ensembles or musicians.
Having written for and performend with so many different kinds of ensembles I know both sides very well and I can help you to find your desired sound and make it a playable and enjoyable experience for you and your musicians.
Arrangangement/orchestration could be interesting for you, if e.g. you are:
- a vocalist/instrumentalist who wants to perform songs in the style e.g. of Nokia Night of the Proms,
   Rock meets Classic or big musical theater productions etc.
- a songwriter who seeks for additional arrangements for live or album
- a musical theater performer having solo shows on cruiseships with a board band and a very tight   
  rehearsal shedule (see below)
- an event show producer who seeks for an exlusive crossover perfomance with orchestral elements
- interested in having a precise transcription of an existing arrangement or reduction for smaller
   ensembles.
- a theater/musical producer or composer who needs orchestration for their shows.
I orchestrate for string quartett up to full symphony orchestra, choir and band.
From solo piano to combo in the styles pop/rock/musical/swing/classical/crossover
For newly composed theater or pop productions sometimes a vocal score or piano reduction is needed. Having played in many big and famous theater shows, I can provide you through this experience with a perfect score reductions and vocal arrangements.
For rates, questions, demos and a complete list of existing arrangements, please contac me.
Watch Trailer
FOR MUSICAL THEATER PERFORMERS
I do very precise arrangements of all kinds of songs/shows that you could use in event shows, concerts or especially on cruiseships, where you only have very few rehearsals and normally a band you haven't played with before.
With ten years experience writing for cruiseships (MS Europa, MS Europa2, MS Deutschland) and 14 years playing in musical theater shows I optimized my writing for those kind of combos. You want your musicians to perform your music well from the start and be safe during your concerts even if the songs are difficult. An easy-to-read and clear arrangement will help to make you and your band perform best.
Some shows need a special sound treatment or samples for the keyboards. I can help getting in touch with the keyboard player or music director to find out how he can program the sounds needed or even send the sounds I am using, should the musician use programms like e.g. Apple Mainstage.
Should you need any playbacks, or half playbacks (Backingtracks, Clicktracks) for the band, please go to music production
Equipment:
Imac27"
Digital Audionetworx Workstation
Sibelius
Noteperformer
Vienna Symphonic Library
I can create high quality mock-ups generated from the notation programm which will sound close to the final result with real musicians and can be used as rehearsal material.
24 Arrangements and 18 short/medium compositions for the Prix Pantheon 2019 show on german television and radio channel WDR.
Orchestra Arrangement for Duet "You & I" with Silvia Vicinelli and Bobby Kimball (Ex-Toto).
7 Arrangements for a crossover concert at Philharmonie Essen in december are done. I am very happy to also perform an orignal song by Silvia VIicnelli again with Orchester der neuen Philharmonie NRW and conductor Heribert Feckler.
Breathing
Total Eclipse of the heart
I belong to you
Vivo per lei
Georgia on my mind
A Song for you
What I'd say
16 orchestral arrangements for the upcoming RockPop meets Classic concert in Austria are finished.
For an upcoming Show (December) at the Essen Philharmonic with Silvia Vicinelli and Conductor Philipp Maier I will compose and arrange a short suite from our Album "Sundressed".
This will be the base for a planned symphonic concert with Silvia's Songs only.
Just finished 5 Arrangements for Silvias upcoming concerts on MS Europa for an 8 piece Ensemble (p,keys1-2,dr,b,git,ts,tr)
Songlist:
Curtain Call (from Dreamgirls)
I Have Nothing (Whitney Houston)
Hero (Mariah Carey)
You Only Live Twice (James Bond Title Theme)
Tonight (Bernstein)
My orchestration of "Titanium" will also be played in an adapted version by the Remscheid Youth Orchestra and Silvia Vicinelli on may 31st in Teo-Otto-Theater Remscheid.

2 Arrangements for Silvia Vicinelli with ORSO at Rothaus Arena Freiburg (120 piece Orchestra, 70 piece Choir, Rock-Band)
Songlist:
Breathing (written&composed by Silvia Vicinelli)
Titanium (Sia)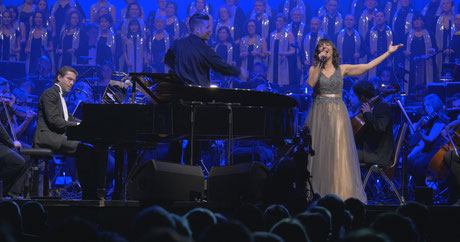 Rock Symphonic Project - Classic meets PopRock in Oberpullendorf/Austria
8 orchestration for symphonic orchestra plus Band.
Songlist:
Toto Symphonic Overture
Music (John Miles)
Rock Beethoven
Vivo Per Lei
Fields Of Gold
One More Night
Viva La Vida
It Must Have Been Love