Martin Morgenstern
production - arrangement - composition - video - piano - art
NEWS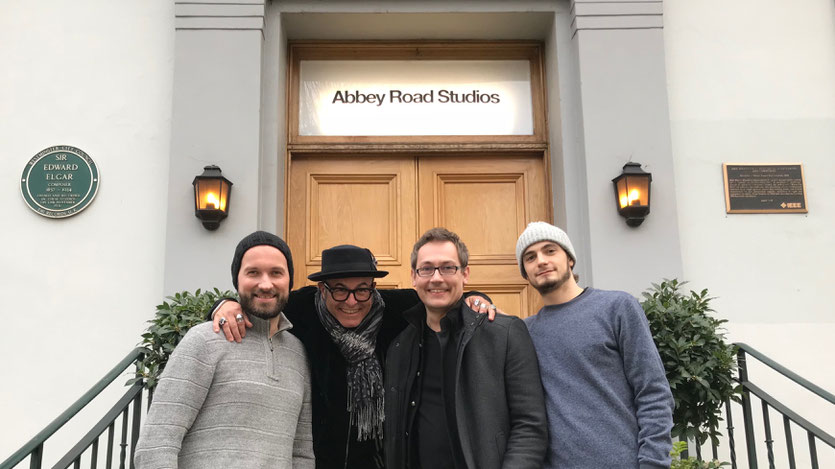 With Producer Matthias J. Stalter, Promoter Giovanni Broccu and Producer Andy Apel at Abbey Road Studios.
Exciting things coming up!
December 2019

Arranger and conducter for the first Facebook Christmas Live Stream Concert at Laisz Halle Hamburg. 
November 2019

Arranger for The Voice of Switzerland. 50 arrangements in 2 Weeks.
Mai 2019

Vocal scores for legendary Sting-Producer Kipper and Artaban the Musical.
April 2019
music director/composer/arranger for tv show Prix Pantheon 2019 on german channel WDR.
December 2016

Recording our second song "I was blinded with legendary Toto singer Bobby Kimball plus Video shoot for our first song "You&I"
July 2016

Bobby Kimball, the original leadsinger of the band Toto, recorded an epic rock duet with topvocalist and songwriter Silvia Vicinelli. I will produce this and some other tracks for an upcoming symphonic rock crossover project with support of Philipp Maier the initiator, conducter and arranger of the original Rock meets Classic tours.
June 2016

Playing Keyboards for Jamie Lee (Winner Voice of Germany, ESC) at the Arminia Bielefeld Stadium with my new setup Kurzweil Forte SE/Roli Seaboard.
April 2016

Musikmesse 2016. Presenting the new Kurzweil FORTE SE at Soundservice Booth.
January 2016

Back from a fantastic concert trip on 5star plus cruise ship MS Europa from Singapur to Australia with italian singing sensation Silvia Vicinelli.
Dezember 2015

It's been a fantastic Journey. 3 Weeks working for Porsche in Lissabon as music director and orchestrator.
Dezember 2015

7 Arrangements for Orchestra and Band done. I am very thrilled to perform Silvia Vicinelli's "Breathing" again.
Phiharmonie Essen 7th dec 2015
Dezember 2015

A new video is online. The incredible Silvia Vicinelli & Yasmina Hunzinger performing the all time classic "Tell Him".
Produced, filmed and edited by me.
November 2015

Bodyguard - the Musical is opening it's doors at ther Musical Dome Cologne. I am happy to be part of the orchestra.
July 2015

A new short image film is online now. It's a teaser about Silvia Vicinelli's exellent work as vocal coach and voice trainer. You can find the video here

April 2015
Here it is: My brand new product video for the KURZWEIL Artis SE in collaboration with Silvia Vicinelli and Sound Service GmbH which was successfully introduced on this year's Musikmesse Frankfurt!
Video Link here
March 2015
Preparing for some super exclusive shows on MS Europa with singing sensation Silvia Vicinelli.

For more information about this please see our website of "Unexpected Songs"

February 2015
The new KURZWEIL product video ist already in preproduction. It will showcase the new ARTIS SE which I will also demonstrate at the upcoming Musikmesse Frankfurt in April.

December 2014
Almost there! Silvia Vicinelli and I have the wonderful opportunity to perform our cinematic rock pop song "Breathing" live with a 120 piece orchestra plus big choir (70) and band in the Rothaus Arena in Freiburg.
I'm so excited to hear my orchestration played live by a sensational orchestra like the ORSO. Date: 20th Dec.
Video coming soon. 
December 2014
Sound Service published a full-sized back cover advertisement for my recent Kurzweil Forte video on leading german keyboard magazine KEYBOARDS. You can also find it in "TASTENWELT" and "OKEY". Nice :)
October 2014
The brandbew product video for the top line stage piano FORTE from Kurzweil is ready and published on youtube. Thank you for more than 8850 likes on the Kurzweil Music Systems Facebook Page. Kurzweil community: You rock! Feel free to see the video here.
October 2014
For the concert classic meets rock/pop in Austria I contributed 8 arrangements for symphonic orchestra plus band. DVD and link coming soon. 
September 2014
Back to the boards! I've had a great time at Queen's We Will Rock You. Munich you rock!!
Off to Rocky Horror Show rehearsals
June 2014
The Production of Silvia Vicinelli's Album "Sundressed" is finished and released on iTunes, Amazon, CDBaby.
It was a long journey, but totaly worth it. If you want to know more about this outsanding artist feel free to visit her website.
Song previews can be found here.
June 2014
In Berlin I was presenting the brandnew FORTE Stage Piano at the Kurzweil Distributors meeting 2014.
What a fantastic instrument! Although Kurzweil is not known too much here in Germany I always have the feeling to have some kind of secret weapon on stage. It definitely sounds different and suberb as well.
If you wanna check it out, see Kurzweil's website or watch some of the videos from Frankfurt Messe.
March 2014
The Frankfurt Messe was a big success. I presented the prototype of the brandnew stage piano the Kurzweil Forte at the Sound Service booth. You can find some soundexamples under this link.
January 2014
Back from a fantastic musical trip on lovely MS Europa 2. Together with italian singing sensation Silvia Vicinelli I gave two exclusive concerts from our high class entertainment programm "Unexpected Songs".
Playing music and seeing the beauty of central america was just another dream come true. Thank you Hapag-Lloyd! You can find some impressions from these shows here.